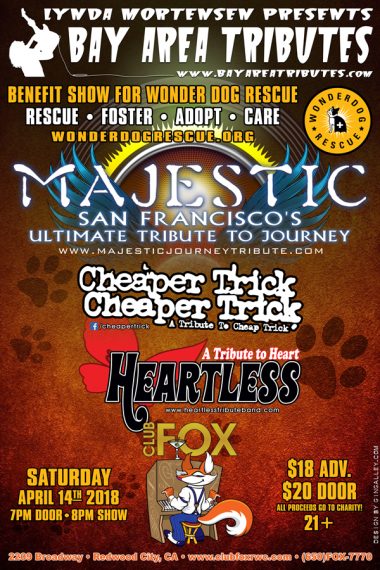 April 14, 2018
Wonder Dog Rescue Benefit - Majestic (Tribute to Journey) // Cheaper Trick (Tribute to Cheap Trick) // Heartless (Tribute to Heart)
Time: 7:00 PM
Venue: Club Fox
Address: 2223 Broadway
Zipcode: 94063
State: CA
Country: US
Phone: +1(650)369-7770
Wonder Dog Rescue Benefit
Majestic (Formerly Evolution) – San Francisco's Ultimate Tribute to Journey
Cheaper Trick – A Tribute to Cheap Trick
Heartless – A Tribute to Heart
7:00PM Doors/8:00PM Show
$18 Adv. / $20 Door 21+
---
Who is ready to win a weekend getaway and more?
Brought to you by:

See the AMAZING list of prizes BELOW!
Raffle tickets are on sale NOW for The Wonder Dog Rescue Benefit!
Contact Lynda if you wish to purchase tickets and cannot make it to the show. Otherwise you can purchase tickets the night of the show directly.
lynda@bayareapetpals.com or call (650)996-6652 or through Facebook Messenger – Bay Area Tributes / Bay Area Pet Pals
The raffle will be held on Saturday April 14th at the Wonderdog Benefit Show at Club Fox.
You do not have to be present to win!
Raffle TICKETS will be:
$5 for 4 tickets
$10 for 10 tickets
$20 for 25 tickets (best value)
All proceeds go directly to Wonder Dog Rescue to help save more dogs!
The bands will be donating their time for this event and all of the raffle money goes directly to the rescue as well!
Last benefit show we raised abut $4000 for Wonderdog Rescue! This year, we are hoping we can do much better.
Here is a list of some of the prizes available so far…
Grand Prize Getaway
$350 gift certificate towards a 2 night stay in a PET FRIENDLY Garden Studio at The Fern Grove Cottages at The Russian River in Guerneville!
PLUS a $50 gift certificate for the nearby Applewood Inn to use towards a meal at the restaurant or a spa service.
PLUS a $25 gift card to use at The Russian River Brewery!
Fern Grove Cottages
Applewood Inn Restaurant and Spa
Russian River Brewing
VIP Brewery Tour of Drakes Brewery Co. and FREE beer!
VIP Brewery Tour & Tasting at Drake's Brewing Co. and Barrel House in San Leandro. Good for one group of up to 6 people. Come join a guided tour of Drake's twin brew houses and cellar, and learn the history and production process of your favorite Drake's brews. After the tour, enjoy a curated tasting flight in the Barrel House bar, featuring year round, seasonal, and specialty beers brewed right here at Drake's!
Also included will be a 12 pack of Drakes seasonal and specialty beers!
Autographed Bottle of Meniketti Wine
A bottle of 2017 Temptation Rose Pino Noir autographed by Dave Meniketti of Y&T!
2016 S.F. Giants Metallica Night at AT&T Park giveaway statue
Baseball/Skull statue
Half Moon Bay Lunch and Massage
Gift certificate for a 60 minute massage with Courtney Woodrow CMP and $25 gift certificate for lunch at The Barn in Half Moon Bay!
Autographed 2016 S.F. Giants Metallica Night At At&T Park Giveaway Statue
VIP giveaway surf board statue, hand signed by Robert Trujillo & Kirk Hammett of Metallica and pro surfer Benji Weatherly.
Brien Shamp's Fitness Boot Camp
30 consecutive days of unlimited fitness sessions.
Brien Shamp's Boot Camps, Personal Training, Nutrition
Drakes Brewing Company Beers
One case of Assorted Drakes Brewing Specialty Company Beers!
Pamper Me Package
Includes gift certificates for nail salon and hair salon – go get pampered!
New England Lobster Gift Basket
New England Lobster Market & Eatery
Cannabis Gift Basket
Includes a wide variety of edible cannabis products and cannabis wine. Hey, it's legal now! Also included are some midnight munchies. Nom, nom, nom.
(2) Stay at home Movie Night Baskets
Both include a $25 Netflix gift certificate, a variety of movie goodies, including candies, and popcorn!
Custom Portrait by Artist Thomasina J. Demaio
Valued at approximately $500 (Your choice of subject – pet or human)
(2) Doggie Grooming Gift Baskets
Includes a wide variety of Earthbath grooming products.
Can include, shampoos, conditioners, doggie wipes, eye wipes, face wipes, Earthbath T-shirt, etc..
Chihuahua Gift Pack
Custom designed sterling Chi charm, Chi vase, Chi photo frame, and Chi book and a gift certificate for an hour of training (value $120)
IOTA GPS pet tracker
Protect what's most important to you with the iota Tracker – Introducing iota, the smallest real time GPS tracker, activity monitor, and motion sensor with a long-lasting, rechargeable battery and no monthly fees. Perfect for pets, seniors, kids, vehicles, bikes, and more!
Tickets to Slim's/Great American Music Hall
2 FREE tickets to any show at The Great American Music Hall or Slim's in San Francisco
Slim's / Great American Music Hall
Fancy Feet Grooming Gift Certificate (Belmont, CA)
Gift certificate good for up to $48 of grooming services for your pet!
Fancy Feet Grooming by Jennifer
Bay Area Tributes & Bay Area Pet Pals Gift Basket
Includes T-Shirt, note pads, pens, SFARZO guitar Strings, and other goodies. Plus, 2 FREE tickets to ALL Bay Area Tributes shows in 2018!
Bay Area Tributes / Bay Area Pet Pals
Beauty Gift Bag
Includes bath salts, various soaps, lotions, make up, body wash, body spray, shampoos, conditioner, essential oils, etc..
(2) Wine and goodie gift baskets
Valued at $70-$80 each.
Mah Jong Set
1920's traditional Chinese Cherrywood Mah Jong set. All hand engraved, with bone/bamboo tiles. (valued at $400+)
ObstaCourse Fitness (Redwood City, CA) Family Package
Adult Monthly Membership for 2 people. ($300 value).
Plus 1 Youth Fit class for 2 kids. ($60 value).
Plus 1 Teen Night pass for 2 Teens ($50 value)
Pooch Pampering Gift Basket
Rae Dunn hand-crafted hand-painted ceramic dog treat container with Organic Dog Biscuit Cookbook and cookie cutters set, dog treat launcher, 16oz bottle of John Paul Australian Tea Tree shampoo with eucalyptus oil and aloe, microfiber ultra-absorbent dog bath towel, moose stuffed dog-toy (value $95).
Pinot Picnic Gift Basket
One 750ml bottle of 2015 Domaine Carneros Estate Pinot Noir, handmade lead-free crystal wine decanter, set of 2 bamboo 6″x8″ cutting boards.
More Prizes Coming Soon!